A secure and stable option for complete dentures
Implant-supported dentures offer added stability in cases where full dentures are needed. As the name implies, this type of denture attaches to a select number of strategically placed implants in the upper or lower jaw. These small surgical posts provide precise points of attachment for the overlying denture and add a significant measure of stability and retention. This added level of security enables one to smile, speak, and eat with confidence and ease. 
Enjoy the benefits of a complete and beautiful smile
Implant-supported dentures provide the security of a complete and beautiful smile without the worry of your denture moving. While traditional full dentures rely upon the retention provided by saliva or dental adhesives, they can slip about as a person moves their mouth throughout the day.
Implant-supported dentures are designed to address the unique needs of every smile and provide a solid foundation for a complete denture. Consisting of natural-looking prosthetic teeth surrounded by lifelike looking gum tissue, they offer an attractive and stable solution for reestablishing a complete, beautiful smile.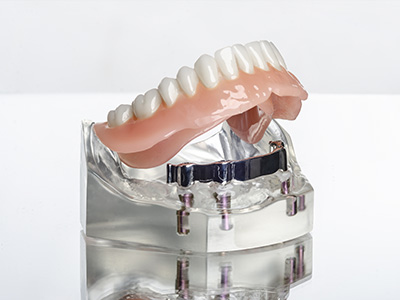 Our Location
341 North Colony Road

Wallingford
,
CT
06492
(860) 756-5475
Follow Us